The popularity of drones, or unmanned aerial vehicles (UAV), has taken flight, as entry-level prices continue to drop. Business Insider SA estimates that there are currently between 40,000 and 50,000 drones in South Africa. However, the '2018 State of the Drone Report' affirms that there are only 663 Remote Piloted Aircraft Systems in the country, which means that 99% of the drones in South Africa are operated by amateurs.
Business Insider SA further states that repair specialists suggest that about one in ten rookie drone pilots are destroying their craft on the very first flight. This is mainly due to a lack of knowledge, or by irresponsible and preventable ways. Even worse, many are doing so while not being covered by insurance.
As drones are becoming a very popular commodity in various industries in the Country, it is important to understand where the benefits and risks lie when thinking about purchasing one.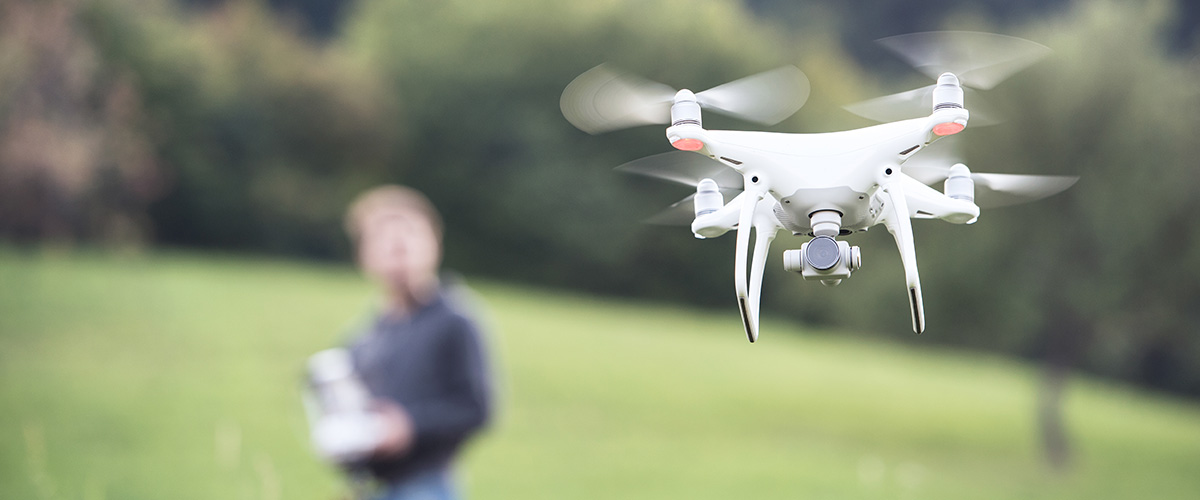 Let's investigate the difference between a hobbyist and the commercial drone pilots:
Hobby Drones
If you are only interested in flying your drone for private use (no commercial interest or gain) and it weighs less than 7kg, you do not need to register the drone or obtain any licenses. However, the South African Civil Aviation Authority (SACAA) and Remotely Piloted Aircraft Systems (RPAS) Part 101 Regulations still apply.
The following restrictions and regulations must always be adhered to:
The drone is not allowed to carry any passengers or cargo.
It may not fly at night.
It may only fly 500m away from the pilot and stay within direct line of sight.
The drone may only fly 120m from the ground and stay within direct line of sight.
It must stay lower than the highest obstacle.
You are also not allowed to fly within 50m from people, roads and buildings.
You need clear permission to fly over someone's property/properties.
You must be at least 10km, or more, away from the nearest airport/aerodrome.
There are many No-FlyZones (NFZ) in South Africa, such as police stations, prisons, nuclear power plants, courts of law, to mention a few. It is recommended that you look these up and make sure to comply with the flight restrictions in these No-Fly Zones.
SANParks and other FAP areas are protected under the NEMA Protection Areas Act. The Act states that it is illegal to fly in a national park without express permission from the Management Authority of the particular National Park. Only drones used for wildlife conservation and research are allowed to fly in these restricted areas and need special permission to do so.
There may be other additional regulations not mentioned. We therefore urge you to please do thorough research before purchasing a drone.
Non-compliance with regulations can result in a fine of R50,000, or up to 10 years in prison.
Please also keep in mind that you are not allowed to drink and drive or fly. Keep a look out for weather changes, as wind, rain and fog may lead to an accident that could injure someone or damage their property. Always respect people's privacy, as this may constitute trespassing.
Insurers are not willing to cover liability or flight risks for drones unless the pilot is fully licensed and has obtained an ROC. Therefore only static risk cover is available for hobby drones and unlicensed commercial operators.
Commercial Drones
Applying for your SAACA (South African Civil Aviation Authority) Remote Operators Certificate (ROC) may impose time consuming administrative elements and may take months, or even years, to obtain. It is also important to ensure that your Operations Manual covers all the required criteria as mandated by the SACAA.
De Wet De Villiers Brokers have once again gone the extra mile to assist our clients. We have approached relevant and trustworthy companies in the drone industry that are willing to assist our clients to obtain their drone licenses. We have also negotiated with a trusted partner to allow our clients to operate under their ROC (Strict Ts and Cs Apply!). In addition, we have partnered with companies to do drone work on your behalf and in various industries, such as surveys/inspections, agriculture, security, film and entertainment. This is especially helpful in the event you do not wish to purchase your own drone.
Various industries that currently benefit from drones include:
Agriculture
Search and Rescue
Building Inspections/Structural Engineers
Public Safety
Security
Surveys and Fault Detection (powerlines, solar panels, conveyor belts, DB boards, insulation of roofs, etc.)
Maintenance and Inspection
Conservation
Environment - Combating climate change
Delivery
Film and Entertainment
With almost 10% of drones in South Africa being destroyed on their very first flight, and 1,200 drone accidents reported in a single month by a single repair shop, it is evident that proper insurance is needed.
Luckily De Wet De Villiers Brokers has the insurance solution to give you peace of mind.
Whatever industry your commercial drone operates in, De Wet De Villiers will help with your insurance needs. Please call our dedicated brokers today to discuss insurance relating to your drone.
Sources:
2 Oceans Vibe
https://www.2oceansvibe.com/2019/09/26/stats-show-that-south-africans-arent-very-skilled-at-flying-drones/
Business Insider
https://www.businessinsider.co.za/drones-crashing-in-south-africa-first-time-out-without-insurance-2019-9