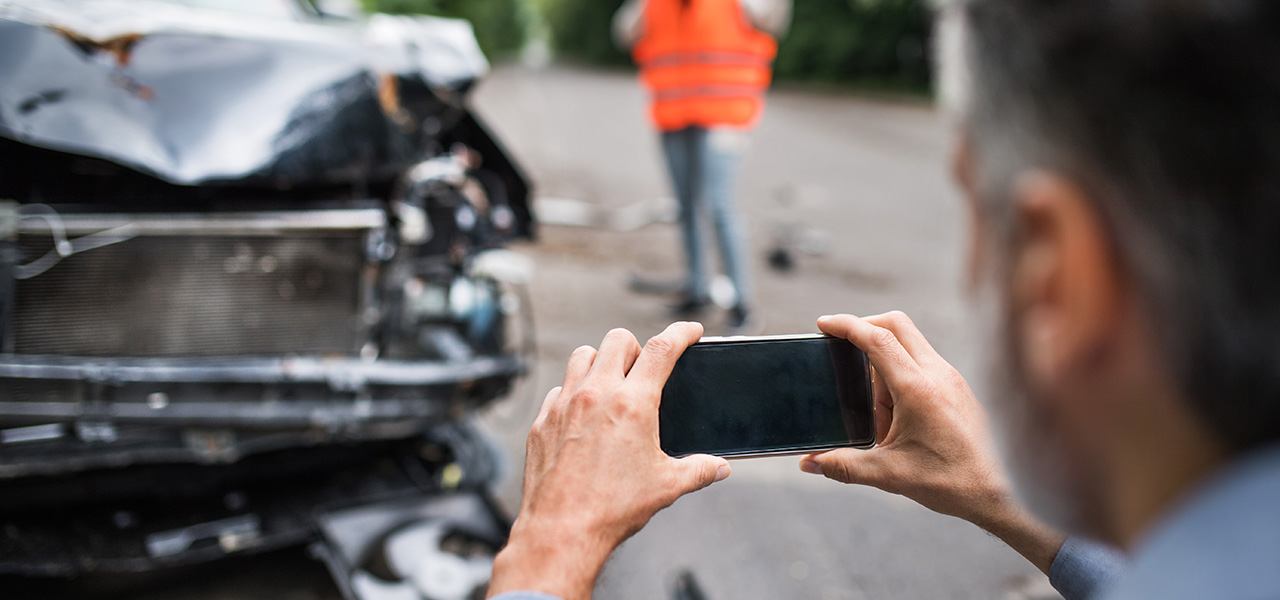 A vehicle accident, be it a small bumper bashing or something more serious, can be stressful for all parties involved. Courtesy of Hollard, we bring you the following tips, advice and information to keep in mind in the unfortunate event you are involved in an accident.
It is important to try and remain as calm as possible. Keep an open mind and do not say or do something that could implicate you at a later stage. For example, do not apologise for the accident and accept fault. In fact, try and avoid this "trap" at all costs!
Ensure that you record and document accurate information about the accident. This is when your mobile phone and camera becomes an imperative tool.
Information to be obtained at an accident scene:
Your phone can come in quite handy at an accident scene. It can help you make a successful recovery and even assist with the claim process. Ensure it is always charged and ready for an emergency.
REMEMBER TO TAKE CLEAR AND READABLE PHOTOS OF:
Photos of vehicle registration plates assist to confirm ownership, should your insurance provider run a trace. It will also assist to confirm where the vehicle is from, and even help determine if the vehicle is Government-owned (plates that end with M). This is imperative information, as insurance providers only have 6 months to claim from any government institute from the day they become aware that the vehicle is part of a government body fleet.
When taking accident scene photos try and collect the following evidence:
Photos of the position of all involved vehicles after the accident
Photos of the area where the accident occurred, inclusive of

Any landmarks (traffic lights or road signs), as well as markers from the traffic signs, or markers to the accident scene
Bends in the road prior to the accident and/or bushes obscuring the view of traffic, and so on
If visibility is limited due to smoke or rain/fog, take a photo of the weather conditions to prove limited visibility at that time
In the event the other party lost control due to a burst tyre, take a photo of the relevant tyre
We urge you to drive safe and to always be alert. Here are a few tips about reporting an accident:
When in an accident – STOP – and gather all the information. Do not simply think that the damages appear to be minor and drive off – this can be construed as a HIT AND RUN!
After you have stopped and assessed the situation to see if people are injured or appear to be under the influence, you need to contact the police to come out to the accident scene.
If you were involved in an accident with another vehicle, and the damages are minor, and you have exchanged details and so forth, you may move the vehicles out of the road. In this case, it is not necessary to contact the police to come to the accident scene – BUT – both parties have to report the accident within 24 hours at a police station.
If you were involved in a single vehicle accident, for example you hit a tree and there's no damages to another person's property, you do not have to stop or report the accident to the police.
Remember and/or save the emergency numbers:

10177 – Ambulance
10111 – South African Police Service (SAPS)
On a cell phone – 112 for any emergency

The accident needs to be reported within 24 hours at the nearest SAPS.
If you are unable to do so, because you have sustained injuries and were taken away from the scene, then report the accident as soon as you possibly can and are able to.
It is an offence if you do not report the accident and there were damages to another person's property. You may be issued with an Infringement Notice in terms of Administrative Adjudication of Road Traffic Offences Act (AARTO), or a written Notice to Appear in Court.
Never let anyone tow your vehicle without permission. Check and ensure with your insurer first.
Your insurer will contact a towing company as soon as you have phoned them from the scene, and they will give authorisation to the towing company via WhatsApp/SMS.
Finally, remember to keep the De Wet De Villiers Brokers' emergency number at hand, or save it on your cell phone now, to ensure you can get hold of us if needed: 066 049 9766.
We are here to help!